NEW DELHI, India (CNN) - For many Indians, a four-wheeled family car is the stuff of hopes and aspirations.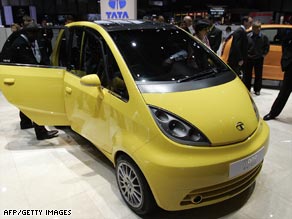 And Maruti Jayawant Bhandare – a 43-year-old man living on $160 a month by mending shoes from his tiny stall in Mumbai – learned earlier this week his dreams might have come true.
News reporters told him he was one of the lucky first 100,000 customers selected for the world's cheapest car, the Nano, being built by India's Tata Motors.
He was one of 206,703 people who in April booked what has been billed in India as "the common man's car." He paid Rs 140,000, or around $2,800, for a deluxe version of the Nano; the basic model is priced from $2,000.
A cobbler booking a Nano made news in India, where a car ownership is a luxury for most. Here was a potential car owner who lives in a rented room in a Mumbai tenement with his wife and two school-age children.
I called him after seeing news reports he was among the first. Bhandare was eager to receive his tiny, jelly bean-shaped car – although he had yet to learn how to drive.
Still, he was a little unsure when his car would arrive since Bhandare doesn't know how to access the Internet to check the delivery information the company provided. So he gave me his details to check the company Web site for his application status.
Alas, I found the earlier press reports were incorrect – "Mr Maruti Bhandare" was not among the lucky first Nano owners. He is scheduled to take delivery of his car between January and March 2011.
A two-year wait for his sunshine-yellow hatchback sounded a bit too long for Bhandare. "I will go to the showroom, make some inquiries and decide then what's to be done now," he said.