For the past 12 years, some 50 of Europe's top corporate leaders have been under special surveillance.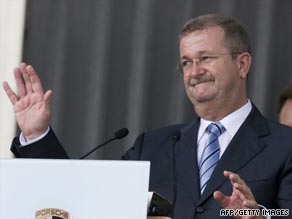 Wendelin Wiedeking's time at the head of Porsche has come to an end.
This has nothing to do with this week's revelation that Frankfurt state prosecutors are deciding whether to bring criminal charges as they investigate allegations of illegal tactics by private detectives on contract to Deutsche Bank – though that mighty bank's former CEO and Chairman, Rolf Breuer, is among the names being watched.
In 1997 and 1998 I was part of a CNN team that made some 50 programmes about individual company bosses in a series called "Pinnacle Europe." We spent at least a day with each one, talking to them about how they'd got to the top, what they'd done for their companies, how they planned to stay ahead and what they did outside the office.
The series producer, Jeff Nathenson, and I still regularly exchange banter about what has happened to each of the CEOs we profiled; he maintains there is a "curse of Pinnacle" that gradually topples them, one by one. So we continue our casual surveillance of all 50 – by the boringly legal method of watching the headlines, I should add.
The fact is, though, that many are now ex-bosses. Many crashed and burned; they fell victim to boardroom knife attacks and are spending more time with their families. Some, like Jorma Ollila of Nokia, completed their distinguished careers and moved on to even higher things. Others sold their companies.
A handful have survived. Sir Richard Branson is still running Virgin in his unique way and is even wealthier than he was in 1997; Daniel Vasella is still atop the Swiss pharmaceuticals company Novartis; and Klaus Schwab is still head of the World Economic Forum.
But today one name did fall victim to Jeff Nathenson's putative "curse of Pinnacle." Germany woke up this morning to learn that one of its corporate titans, Wendelin Wiedeking, had been ousted as boss of Porsche, the role in which I had interviewed him for our CNN profile early in 1998, and which he had held for a very successful five years before that. With Wiedeking and his impressive collection of model cars evicted from the Porsche headquarters, talks are now underway to bring about a merger of the sports car maker and Volkswagen.
Dr Wiedeking had sought exactly the same thing, but in a different format. Having rescued Porsche from the weak dollar of the early 1990s (US sales are crucial to the company), he launched new models, shifted some production out of Germany and made the Stuttgart-based icon one of the jewels of its sector: prestigious and profitable.
Money piled up at the bank – and in the CEO's personal wallet. His contract awarded him 0.9% of Porsche's pre-tax earnings, a bonus reported at some 77 million euros in 2007-08. Confident in his ability to run any car company, even Europe's largest, Wiedeking set his sights on a takeover of Volkswagen.
That proved his undoing. Like the Icarus of myth, this high-flier had ventured too close to the sun. True, Porsche amassed more than half of VW's shares and had options on a further 20 percent. But it had also run up $14.2 billion in debt, and as the credit crunch bore down on big corporate borrowers, that burden crushed the life out of his ambitions.
Family politics also played a part. Porsche and Volkswagen have always been intertwined. Before World War II, Ferdinand Porsche designed the original Volkswagen or "People's Car" – the evergreen Beetle. When the War was over he built his first Porsche model in a shed up an Austrian mountain, shifting production to Stuttgart when his sports cars started selling in big numbers.
Ferdinand Porsche's descendants still control the company he founded – but one of his grandsons is the redoubtable Ferdinand Piëch, the Austrian former Volkswagen CEO, now its chairman. Wiedeking's designs on VW split the extended family, and made an enemy of Piëch, a man not to be crossed.
History will shake its head at the ill-fated ambitions of Wendelin Wiedeking, while admiring the way he rescued Porsche, and that neat clause in his contract which rewarded him so handsomely for genuine, measurable success.
But why am I writing him off? He still has some interesting directorships – Novartis, for example. He has no need of money, even giving half his $70 million pay-off to charity, but driven people like that don't just retire to the golf course. They waste no time in passing out their telephone numbers to the head-hunters.
There aren't that many executives who can say they've rescued a major car company once before and left it wonderfully profitable, and these days those qualifications are badly needed. Like, who's going to run Opel once it's been sold off by GM?