LONDON, England – Last week when I appeared on CNN to talk about earnings, I raised the issue of the quality of the U.S earnings.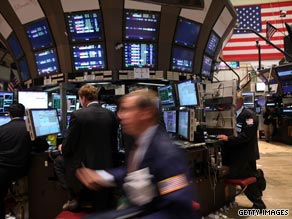 Wall Street gains sent the Dow above 9,000 points for the first time since January.
Investors have been pushing stocks higher fueled by better than expected earnings. The Dow broke through 9,000 for first time since January, while the S&P 500 has shot up 11 percent in the past two weeks. The U.S. earnings season has fueled a global rally.
But are investors getting too euphoric? If you look at the revenue side of the earnings, not all is well. Take the 143 companies in the S&P 500 who reported last week. Revenues actual fell on average 10 percent from the same period a year ago, according to Bloomberg data.
Steven Ricchiuto, chief economist at Mizuo Securities USA hit the nail on the head when he spoke about the divergence between earnings and revenues.
"We know companies are cutting costs at a record pace, and that is helping earnings. But you can't keep on shrinking your way to profitability. Eventually, you do damage to your end users. You have to get revenues up to have a sustainable upturn."
David Rosenberg, chief economist and strategist at Gluskin Sheff, echoed similar sentiments when quoted by the Financial Times.
"Earnings may be beating low-balled estimates for the majority of S&P 500 companies, but there is no questioning the fact that we are also seeing a sustained decline in revenues."
"What we are still witnessing is a trading opportunity rather than a fundamental shift in the outlook. We must take into account what the risks are going to be once the buying momentum is lost," he added.
The bottom line is that companies can't indefinitely cut costs, they need to get revenues moving higher. But every time they shed a job, that means one less consumer spending as much money in the economy, undermining the prospects for recovery, which in turn of course, hurts companies earnings prospects.
In a research note this month, the economist Nouriel Roubini sounded a note of caution.
"Expectations of corporate earnings will have to be downgraded again. Demand will be weak, most prices will be falling, and companies will therefore have little pricing power and their profit margins will remain squeezed. The expectation that in these conditions profits will rebound strongly is quite far-fetched."
Roubini is worth listening to, because he's the guy who predicted the credit mess. As I've written many times before, any sustainable recovery is still far away.
But for now, investors aren't too concerned why companies are beating earnings expectations; that they are is enough. A closer analysis might make investors a little less euphoric.
Do you agree or disagree?