LONDON, England – The nomination of Ben Bernanke to a second term as chairman of the U.S. Federal Reserve comes as no surprise. The surprise would have been if U.S. President Barack Obama nominated someone else. The financial markets are satisfied with the job Bernanke is doing. In the middle of a crisis, you don't want to be changing the man responsible for steering the economy back on course.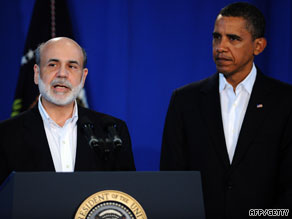 U.S. President Barack Obama has again nominated Ben Bernanke, left, as chairman of the U.S. Federal Reserve.
Does it mean that Bernanke has done everything right? No, of course not, he hasn't - and he has admitted that he was mistaken early on in saying that the subprime crisis would be contained. But once he recognized how severe the crisis was, he and the Fed acted with boldness and innovation.
Bernanke also came under criticism for, among other things, allowing the failure of Lehman Brothers. But he defends the decision, saying the failure was unavoidable, that a buyer couldn't be found and that Lehman didn't have enough collateral to meet the criteria for a large Federal Reserve loan to stay afloat.
One area of concern is the massive amounts of liquidity the Fed has pumped into the system and whether those will lead to a re-emergence of inflation further down the road.
Bernanke is acutely aware of those concerns, and today pledged to work to the utmost of his abilities to "help provide a solid foundation for growth and prosperity in an environment of price stability."
His nomination to another four-year term still needs to be approved by the U.S. Senate. He will receive some tough questioning at his confirmation hearings, including why the Fed didn't do a better job of supervising the banks that got us into the subprime mess to begin with. The Fed's exit strategy from its ultra-loose monetary policy will undoubtedly be another area of questioning.
But at the end of the day, Bernanke will be reconfirmed. He has steered the Fed and the U.S. economy through unchartered territory. It's a long way to a full fledged recovery, but at this point, Bernanke deserves the chance to finish the job.
But what do you think – should Bernanke be reappointed? What is your biggest concern regarding the Fed as it goes forward?