LONDON, England – On a quiet summer day in August, when many in London's financial district are away, or wishing they were away, comes a lightning bolt from the head of the Financial Services Authority.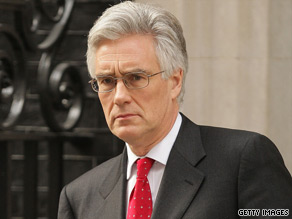 Adair Turner proposes the idea of a special tax on financial transactions.
Adair Turner, the man in charge of regulating the City of London, has said that some parts of the financial sector have grown "beyond a socially reasonable size," and some of what it does as "socially useless activity."
In short he thinks financial services account for too much of Britain's output, robbing other sectors of some of the best and brightest.
To underscore his point, he looks at what "percentage of highly intelligent people from our best universities went into financial services." And then goes to say, "Unless you've got a theory that explains why financial intermediation suddenly needs all this extra resource, there is something of a conundrum. Is it really the case that financial intermediation today is a more complex thing that a decade or two back?"
He proposes the idea of a special tax on financial transactions.
His is not a new idea.
Originally, an economist named James Tobin suggested a special tax on foreign currency transactions to curb speculation. Then in 2005, then president of France, Jacques Chirac, placed a "Tobin tax" on financial transactions to deal with what he perceived to be the excesses of "liberal globalization."
"If you want to stop excessive pay in a swollen financial sector you have to reduce the size of that sector or apply special taxes to its pre-remuneration profit," Turner said.
It's clear that freewheeling capitalism didn't work, that policymakers need to devise ways to curb excessive risk taking. Higher capital requirements should be the first line of defense.
Unsurprisingly, Turner's possible solution and open questioning of whether the financial district is too large, is already provoking sharp debate and response. He even went so far as too suggest that London's competitive advantage as one of the world's premier financial hubs shouldn't be defended at any cost.
The head of the British Bankers Association Angela Knight, did not mince words in response. "I think that if we say we do not want to have an international, competitive industry here, then we will do to financial services what we have done to manufacturing and engineering in the past and that is have it as a minor industry and lose it to others," she said.
I agree with Knight.
Yes, there have been excesses and recklessness in the financial sector that will take decades to unwind, including eye-popping amounts of money bailing out a financial system that could have been put to much more productive use.
But haven't they acknowledged the excesses? Let's not further undermine an economy already on its knees by making it less competitive and attractive. Let's first start with better supervision.
Do you agree there should be global taxes on financial transactions as a way of curbing excesses? Would such taxes be effective?