Why would anyone hire a delusional liar and convicted felon?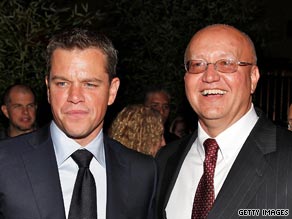 Mark Whitacre, right, at the premiere of 'The Informant' with Matt Damon.
Paul A. Willis, CEO and president of Cypress Systems in California, did just that when he hired Mark Whitacre, the real-life informant in the movie "The Informant!"
Back in 2001, Willis was searching for staff for his small company, which produces selenium, a food supplement that shows promise in reducing the risk of cancer. One of his consulting researchers suggested Whitacre, who has a Ph.D in selenium research and experience running a division of a multinational firm.
"And, by the way, you know he's in prison," Willis recalls being told.
For most potential employers, prison wouldn't be considered happy headhunting grounds. But luckily for Whitacre, Willis was no ordinary employer.
Besides running a business that focuses on Whitacre's expertise, Willis and his wife also are active in prison ministry work. "Our faith in Jesus Christ says we're all given a second chance, and redemption plays a big part in our faith," he said.
"It wasn't a light decision (to hire Whitacre), but it was totally evident to me he accepted his full role in this," said Willis, who starting meeting with Whitacre in prison in 2001 and hired him immediately upon his release in 2006. "He's not blaming anyone, but taking full responsibility … he's focused on not being bitter, but getting better and moving on with his life."
Another convicted white-collar felon, Sam Antar, is more circumspect on the subject of redemption. Although he now lectures government organizations and businesses about white-collar crime,  he stops short of saying he's  "reformed."
"If I tell you I'm not a criminal any more, should you really believe me?" said Antar, who cooked the books in a multi-million securities fraud in the 1980s. "White-collar criminals wrap themselves around a wall of false integrity."
As more white-collar criminals get collared, questions surrounding rehabilitation will likely grow, too.
Do you believe white-collar criminals can change their ways? Share your stories with CNN.