LONDON, England – Based on fundamentals, the markets shouldn't be at the levels they've reached. Some hard cold realities have been reminding investors that the long awaited recovery may turn out to be more anemic than anticipated.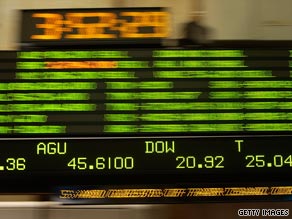 Have markets over-heated?
Take last week for instance. U.S. stocks fell worst than expected on monthly manufacturing numbers and a horrific employment report.
The number of U.S. workers on payrolls fell by 263,000 in September - much worse than expected - and the unemployment rate rose to 9.8 percent, a 26-year high. To make matters worse, the average workweek fell to a record low of 33 hours, hardly encouraging to those who have been buying stocks on recovery hopes.
Nouriel Roubini, who predicted the financial crisis, is bearish on the market. "Markets have gone up too much, too soon,too fast," he said in an interview over the weekend with Bloomberg.
"I see the risk of a correction, especially when the markets now realize that the recovery is not rapid and V-shaped, but more like U-shaped, that might be in the fourth quarter or the first quarter of next year," he said.
Roubini is not alone in his thinking. The head of global bank HSBC, Michal Geoghegan, is worried the economic recession could be worst than some anticipate.
"Is this a V recovery or a W?" Mr Geoghegan asked in an interview with the Financial Times. "[I think] it's the latter. [If I'm right] we have to be very careful we don't grow the balance sheet so far before the recovery has come only to write it back into the impairment line later on. I'm cautious about growing too fast."
And economist Lena Komileva of Tullet Prebon said the weak data, specifically referring to the manufacturing data out of the U.S. last week, "do challenge the market's optimism that this year's capital markets rally is the bellweather of a V-shaped economic recovery and it forces a negative revision of future quarters growth projections, which challenges current valuations."
In simple talk, the markets are ahead of themselves. The global equity rally has added about $20 trillion to the value of stocks worldwide since this year's low on March 9, according to Bloomberg.
Governments have spent about $2 trillion on stimulus, while central banks have taken extraordinary measures to try and get growth moving again.
All that liquidity and hopes of a global recovery have pushed stocks substantially higher, more than 50 percent for the S&P 500, and nearly 50 percent for Europe's Dow Jones Stoxx 600 index from their March lows.
While markets are off their best levels, they are still too high based on economic reality. I suspect the disappointing economic numbers last week, won't be the last. If Roubini and some others are right, markets have much further to fall.
Do you think the markets are too high?