Gary Locke may be the top commerce official in America, but he's a rock star in China.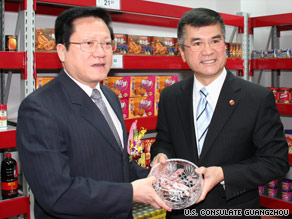 Locke was a hit with locals on a recent visit to China.
This week, the Chinese-American politician who is now U.S. Commerce Secretary, visited cities in the manufacturing heartland of China ahead of his high-level trade talks in Hangzhou.
Locke is joined by U.S. officials such as Agriculture Secretary Tom Vilsack, Trade Representative Ron Kirk, and Ambassador Jon Huntsman, who are here meeting with top Chinese officials including Vice Premier Wang Qishan.
I managed to catch up with Locke in Guangzhou, the capital of the province of Guangdong, where his grandfather was born. You would have thought Locke was a celebrity. During his tour of a Sam's Club superstore and a local university, Locke was mobbed by fans, press, and curious on-lookers all eager to catch a glimpse of their hometown hero.
Locke's grandfather lived in a village in this part of China before leaving for the United States in the hope of a better life. Grandfather Locke emigrated to Washington state where he took a job as a servant for a local family who lived one mile away from the Governor's Mansion. I wonder if Grandfather Locke ever dreamed his grandson would be serving people as well - as governor and now commerce secretary.
Locke told me his personal story is "thoroughly American" but that his Chinese heritage comes in handy in trade negotiations here. "I bring, perhaps, a greater understanding of the culture and history of the Chinese people," he said during our exclusive interview.
These days, the U.S. and China could use a little more understanding. Because of the economic crisis, the bond between the two trading partners has been stretched.
Earlier this year, the Obama administration slapped tariffs on Chinese tires sold in the U.S. Soon after, the Chinese threatened to cut off imports of American poultry products and auto parts.
Locke played down fears of a coming trade war. "When you look at the relationship of say brothers and sisters, the relationship when you are small and young might be very simplistic. But as the families get older they get into more complicated issues," he explained. "But it is the sign of a healthy relationship."
Locke insists the trade disputes won't distract the two nations from cooperating on larger issues such as climate change or regional security. However, even before Secretary Locke has left China, Beijing has informed Washington it is launching a trade investigation that could lead to new import duties on vehicles made by Detroit's struggling Big Three automakers (General Motors, Ford, and Chrysler), according to a U.S. auto industry official.
Hopefully, Locke's experience bridging two cultures will help bridge any economic split.