Singapore – The dirty secret of events such as the APEC CEO Summit is that they are usually scripted, bloodless affairs where any "news" is typically of the tightly choreographed variety.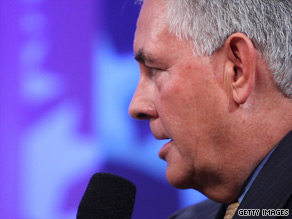 Exxon Mobil's Tillerson: Can science predict what will happen with climate change?
So it was a welcome relief that the last session, devoted to the theme "The Shape of Things to Come," bucked that trend. The always provocative Kishore Mahbubani, author of "The New Asian Hemisphere," asked the panelists to speculate on an improbable version of the future.
Rex W. Tillerson, chairman and CEO of the Exxon Mobil Corp., talked at length about the harsh realities of creating and deploying new technologies for the world's growing hunger for energy. For his implausible vision of the future, he offered the following.
"Today, climate change issues so dominates energy policy… the implausible future may be climate change effects don't turn out the way we thought they would, that the climate models simply aren't competent enough to predict the future.
"Perhaps the Earth has naturally occurring forces that bring it back into equilibrium, and the consequences don't manifest themselves.
"Or alternatively, perhaps, none of the things we do to mitigate greenhouse gas emissions make any difference, that there are other factors in the climate system that are going to force a change to a warming planet regardless of what we do, which means the glaciers are still going to melt, sea levels are still going to rise, weather patterns are still going to shift."
That prompted a strong reaction from U.S. Commerce Secretary Gary Locke.
"I cannot accept the notion or find it implausible that we as human beings have no control over our destiny and that global warming is a natural phenomenon … or that it will suddenly reverse itself," he said.
"I find it implausible and I think unacceptable that we as human beings should simply do nothing about it or have no ability to control our destiny."
Perhaps Stephen Roach, chairman of Morgan Stanley Asia, summed up an unlikely future best: "The most improbable scenario that I could ever imagine... is what we've been through over the last year," he said.
"If you told anyone what we were about to go through the past year, they would have told you you're nuts.
"So we have lived through an improbable year and we must learn the lessons of this extraordinarily difficult period so that we never, ever have to go through it again."