SINGAPORE – The talk was about global rebalancing. U.S. President Barack Obama arrived in Asia on his first official tour, talking about a "rare inflection point in history". A time where "we have the opportunity to take a different path." A chance to rebalance the model where Asia consumers consume more and US exporters export more.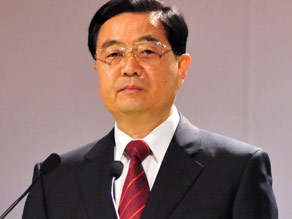 Chinese President Hu Jintao was among world leaders at the APEC summit in Singapore.
APEC leaders fully endorsed the strategy; virtually every economy in the world does. But look inside the APEC meeting in Singapore, and see the problems of turning this into reality. One of the biggest may be China.
More than two years ago, China began to allow its currency to appreciate against the dollar. By the time the financial crisis exploded, it had risen in value by about 20 percent. The crisis was the signal for China to freeze the exchange rate there at about 6.83 to the US dollar.
That was a year ago. Even China's Asian trade partners are now worried that the Chinese yuan is undervalued against the sinking dollar. So one of the key issues in Singapore was to put subtle pressure on China to unfreeze its currency.
Finance ministers talked about flexible exchange rates, the APEC leaders were expected to talk to about "market oriented" exchange rates - all aimed at prodding China to become a little more "market oriented" in its own exchange rates.
But by the end of the gathering, all reference to market-oriented exchange rates in the final statement from leaders had been erased. There had been debate behind closed doors between the U.S. and China about the statement. In the end China appears to have won out.
The message seem to be China will move only when its ready. And for all its newfound goodwill and push for re-engagement, there's not much the U.S. can do about that.