Looking back on this year to early March, you'll find the precise point when the U.S. stock market seemed to find its bottom. The Dow has had a tremendous rally since then, but just about everyone is concerned about what it means.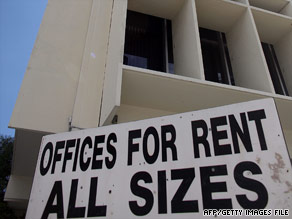 Dropping commercial real estate values is leading fears of a double-dip recession.
Does the recovery lack any real support from economic fundamentals? It is jacked-up on stimulus programs that governments will soon try to unwind– and with what consequences?
Many analysts argue that the consequence will be the dreaded double dip.
As Mark Zandi, chief economist for Moody's Economy.com, told CNN Money this week: "If we do slide back into recession, it will be very difficult to get out."
Some economists are so concerned they want another round of stimulus early next year because the U.S. labor market is still so weak.
About two months ago, I sat down with Steve Palm of "Smart Numbers," a Real Estate analysis company. He feared that so many commercial developments and large housing projects were defaulting it all but assured a double dip sometime in the middle of 2010. It was a dire prediction that stuck with me.
Checking back with him this week, I am sorry to say that the situation from his vantage point is no better. Palm still sees "Way too much stuff coming back to the banks." "This is causing poor liquidity as the banks still cannot lend. The dollar is way too weak too."
Small regional banks continue to go under across the United States. Most of them are going down because of foreclosures on large commercial real estate ventures. Palm sees no end in sight, and fears that if unemployment keeps mounting and housing indicators start falling again, it will be ample evidence of the "W-shaped" trend that analysts say signals an imminent double dip.
The bankruptcy rate further complicates how to gauge this recovery. As unemployment drags on and home values continue to suffer, personal bankruptcies surged 9 percent in October, with a 7 percent jump in business bankruptcies. The American Bankruptcy Institute also expects total bankruptcies in 2009 to reach almost 1.5 million. That's an increase of 30 percent from last year.
Analysts say given all of these factors, the way governments unwind the current stimuli will be key in determining whether the recovery is sustainable, or whether it slides once again. How will we know? CNN Money.com has a great primer on six key indicators to watch if you're concerned as well.
How to protect our own investment portfolios in 2010 is something we should all be discussing. Stay tuned for more on World Business Today.