The old adage, "timing is everything" certainly rings true with the request by the Dubai Government for a standstill on payments by Dubai World for a period of a half year.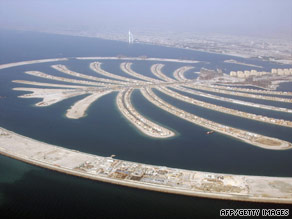 Investor confidence in Dubai, exemplified by developments like the palm islands, has been shaken.
As timing goes, it was curious at best, coming just before the Eid el Adha holidays in the region and the long Thanksgiving break in the United States. Adding to the intrigue is that Dubai successfully raised $5 billion in a bond offering taken up by two Abu Dhabi government controlled banks the same day
This left investors scratching their heads wondering what the motivation was. I spoke to a number of fund managers and bankers with investments in the Emirate and, like most politics in the region, there is more to it than meets the eye.
As one fund manager said,  Sheikh Mohammed bin Rashid Al Maktoum, the Ruler of Dubai and Prime Minister of the UAE, is playing hardball. He is out to "teach a lessons to his boys." His "boys" are the names which have become well-known power brokers in the build up of Dubai Inc. over the past two decades.
It has been a busy week for Dubai Inc.
Sheikh Mohammed cleared out his advisory board at the Investment Corporation of Dubai and pushed out the respected head of the Dubai International Financial Center who also served as Vice Governor of the UAE Central Bank.
The names on his advisory board included Sultan Bin Sulayem the Chairman of Dubai World and its property arm Nakheel. This I am certain was not an easy move by the Ruler.
Dubai's rapid development was closely linked to the Palm and World property developments. I am sure we have all looked at their images offshore on Google earth at least once. Dubai World was also the force behind the high profile dust up in Washington with the P&O ports buyout.
Many I spoke to believe Dubai World is being singled out for good reason. Of the total $80 billion debt on the books, $59 billion of that comes under its leaky umbrella.
In fact, others within Sheikh Mohammed's inner circle seemed to think it is only right for Dubai World to clean up their books like everyone else has been asked to do. That task is underway today with the help of accountancy firm Deloitte.
The other question being raised amongst global investors is the level of bench strength for Sheikh Mohammed or who he is turning to during this shake-up. Names at the forefront today include Mohammed Ibrahim Al Shaibani, Director-General of Dubai Ruler's court and Ahmed Humaid Al Tayer, Governor of the Dubai International Financial Centre.
They were in Sheikh Mohammed's delegation during this week's visit to London and the response to their moves has been positive so far, according to bankers and investors I spoke with.
There is a sense of irony after what has gone on this week. British Prime Minister Gordon Brown congratulated the Dubai ruler for the actions taken to respond to the debt challenges during the bi-lateral meeting. It is something the PM knows a great deal about, with U.K. government debt soaring to 12 percent of GDP.
That nod of goodwill came before Dubai's request for a standstill agreement, and left investors wondering what is next.  As one regional economist said this was a "disappointment in a way." Dubai Inc. had cleared all the hurdles on the path to recovery but appears to have stumbled on this one.