Early in this millennium, which seems like an eternity today, I was taken on a helicopter tour of Dubai for a story I was working on. Sheikh Zayed Road, the main artery of the emirate, still had empty gaps where giant skyscrapers are today.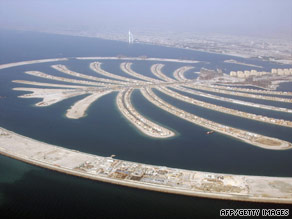 To understand Dubai development's past and future, a helicopter view is required.
On that same tour today, The Palm and World projects, which light up the coastline at night, and the "old" Burj Al Arab hotel - celebrating its 10-year anniversary - are pieces of a puzzle that make up Brand Dubai.
From up above it is easier to see what has been built - most strikingly the Jebel Ali Port which was nothing more than a sandy stretch of land two decades ago on my first visit during the Gulf War. Today, the port is the largest container facility in the region, dwarfing its rivals by a factor of four. DP World has more than 50 other facilities dotted around the globe, a successful creation of Dubai World's spending spree.
It is these traits in Dubai that regional businessmen and government leaders list under the banner of infrastructure which will allow the brand as they see it to survive its worst challenge in the short history of the emirate, something lost as the scenes in this financial drama unfold on a daily basis.
While in Kuwait City this week, I rushed over to the Sheraton Hotel for a meeting to obtain background for a panel I was chairing and to get a different view of the financial crisis.  On my way out, I saw the photos from the winter of 1991.  I remember back then walking on shards of glass and metal, the intense devastation of the hotel by Iraqi troops. This was a stark reminder of where the city and the region came from in the last two decades.
Dubai was just embarking on its expansion with an ambitious Sultan bin Sulayem - the embattled chairman of Dubai World - rolling out his blueprints for the port which was his initial "Field of Dreams."  He was wondering why I had a skeptical look on my face of disbelief.  Maybe I lacked imagination and he was perhaps overly ambitious after that grand project was completed.
Dubai World represents the primary, but certainly not the only challenge for the emirate today.  Government officials and creditors are starting what appears to be a much longer path to restructuring than most were anticipating just 10 days ago.  It won't be half a year; the cost of borrowing will increase as the score of rating downgrades continue to pour in and there won't be one giant property company with assets of $50 billion (at old valuations) because the deal was called off to merge Emaar and the companies under the Dubai Holdings umbrella.
One private equity player pointed to this leveraged play being written in Dubai nearly two and half years ago as we launched our program.  The debt he flagged at the time will eventually catch up with all the players in what most like to call Dubai Inc.  In the region, that label is used as a common reference to all the holding companies created by the government.  From far beyond the financial centers whose lending institutions bankrolled this debt mountain they ask questions like "Is Dubai Inc. a publicly listed company?"  "What do you mean the government owns stakes in each of them?" and "Why were they allowed to borrow so much money?"
We can call that the view from 35,000 feet, skyhigh in a jetliner where we cannot recognize the offshore projects, the port or the iconic hotel.  In the region, most have at one point or another taken that helicopter tour and know why it is important to get today's financial burden sorted out.  They rightly though have difficulty answering those questions.