As I sit on the floor at the Toyota stand at the Geneva Motor Show – such is the crush at the moment – waiting to interview a European executive, the troubled Japanese car maker's sporty prototype, FT-86, silently rotates on its platform, much to the excitement of the motor media trade.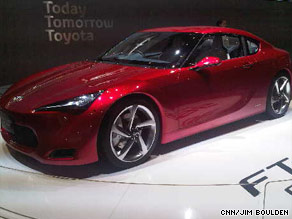 Toyota's sporty prototype, the FT-86S.
This red sports car is touted by Toyota as a return to "exciting and emotional" products.
There are no outward signs that the world's biggest automaker is facing so many bumps in the road.
But the car industry thinks long term. Toyota is showing its third generation Prius in Europe for the first time, a Prius plug in – a first for me – and a massive roll out of Hybrid technology for many of its smaller cars.
John Fleming of Ford Europe told me it sees no impact, good or bad, from the Toyota mess.
Meanwhile, the CEO of Aston Martin proudly showed off its smallest car, the tiny Cygnet, which is based on the Toyota iQ.  It's a heck of a gamble for a super luxury brand to introduce a small Toyota-based model with the AM wings.
Starting at 30,000 euros ($40,461), the company says its customers would use it to nip around the city before jumping into a bigger model for the evening.
For all the wrong reasons, the Geneva Motor Show is Toyota's show. People here wonder when the company can get back to worrying about being number one?
Watch my interview with Andrea Formica, Toyota Europe's Senior Vice President, on Quest Means Business on Wednesday at 2000 CET, 0300 HK.