If you had the rare privilege (and money) to buy one of Britain's most iconic luxury auto brands, would you turn to Toyota to help you round out your range of cars? That is exactly what Ulrich Bez, CEO of Aston Martin has done for the company's concept "luxury commuter car" called the Cygnet.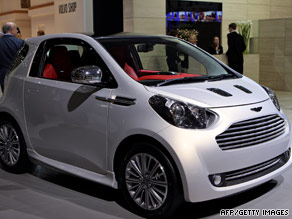 The Cygnet mark's Aston Martin's entry in the compact car market.
It's been two years since Bez, backed by private equity, bought the 100-year-old brand from Ford.
I thought there was a mistake this week when I saw what appeared to be Toyota's iQ microcar displayed at Aston Martin's stand at the Geneva Motor Show complete with Aston Martin's signature wings above the grille. Before this show, enthusiasts had only still photos released by the company to go by.
Bez enthusiastically told me this was the little car for Aston Martin owners to "go and buy bread" but that luxury models costing 10 times the Cygnet's €30,000 price tag will still be the core of the brand. He scoffed at my suggestion that he has created "a starter car."
Of course he asked Toyota to help with this concept car long before the current recall problems hit the Japanese auto maker, and he is relaxed about the whole mess. Bez said highly-engineered products are liable to faults and those faults can be fixed.
He also reminded me that although the Cygnet is a Toyota design, the interior craftsmanship is all Aston Martin.
It won't hurt the company's need to meet the likely onslaught of tougher emissions targets.
The automaker will initially target this car to existing Aston Martin owners or those who have one on order. But the plan, if and when this concept car is launched, is to eventually offer it to the general public.
Finally, there will soon be an Aston Martin for everyone. That is, if you want a tiny Toyota with an amazing leather interior.