We have been watching the surreal scenes of chaos in Egypt: One would think they had been staged on a movie set. Protestors hurl stones at each other. Horses and camels charge in, seemingly from nowhere, and military personnel and their giant tanks sit on the sidelines.
Unfortunately, these are not scenes from an Arab cinema set, but indeed, real events in Tahrir Square, Cairo. I have passed into downtown Cairo on that freeway overpass at least 50 times in the past decade; never would I have thought it would be the site of bedlam, with shots fired and Egyptians attacking one another - and based entirely on a "for-or-against-Mubarak" mentality.
As many Egyptians have said over the phone, while trying to protect their offices and their homes, this is the tipping point. The country of 80 million plus people will mark February 1, 2011 as the beginning of a new chapter, when one man's time was up and all others needed a voice at the table.
Like a good athlete, picking the correct time to exit is no easy task. It requires calibration of not only the mood on the ground, but also the feeling well beyond Egypt's borders. In hindsight (which is always 20-20) that period was pre-global crisis, in the second quarter of 2008. Egypt's stock market was up nearly 350% in the first three years of reform; economic growth was peaking at over 7% and foreign direct investment was flowing in.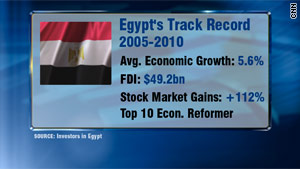 President Hosni Mubarak, or The Boss, as he is often referred to in Egypt, was turning 80. Many
in the international business community were expecting or praying for a smooth transition.
They wondered if power would be passed directly to Mubarak's son, Gamal, who was building his own reputation in charge of policy structure within the ruling NDP party. Maybe he would share power with Omar Suleiman, the former Minister of Interior, now Vice President. But nothing happened.
The next two years would be full of challenges - the global financial crisis did not tip Egypt into recession, but rising unemployment and food prices turned up the heat on a pro-business cabinet that was accused of being out of touch with the common Egyptian. The President thought he should steer his country through the turmoil, but Generation X (and its access to technology) saw it differently.
The challenge now is delivering what businessmen in the region refer to as a "controlled transition." Opposition parties will be at the table –- including the often low-key Muslim Brotherhood –- and so will the new Vice President and the head of the military.
In Turkey, the military carried the ball in the transfer of power to the AK Party led by Recep Tayyip Erdogan. Since then, Turkey has proven that it can represent the voice of the Muslim majority and still be pro-business. Inflation is under control, growth of 8% put it in the top ten global economies in 2010 and foreign businesses continue to call Turkey their home. Like Egypt, Turkey has a special trade agreement with the European Union and low-cost labor and an educated workforce continue to be magnets for leading global brands.
The other option, a hard right turn to the Iranian model, would isolate Egypt and undo what five years of reforms have accomplished: 5% average growth, $49 billion of foreign direct investment. Since 2005, the World Bank has ranked Egypt as a top 10 reformer four times.
The Iranian regime is trying to work around four different rounds of sanctions and the Iranian people pay the price. In Egypt, people lacked a voice and widespread opportunity. Poverty was coming down, but certainly not fast enough to avoid being the second (albeit larger) domino in North Africa after Tunisia to tumble.
Suleiman noted in an interview that tourism will suffer near term and medium term the broader economy will be undermined by uncertainty. I am already seeing growth estimates cut by a quarter or half.
This will mean that in the next 12-24 months, the overwhelming calls for change will exacerbate the ingredient that brought us to this boiling point in Egypt - unemployment. And it is likely to get much worse.