Famed investor Warren Buffett says it's time to go shopping.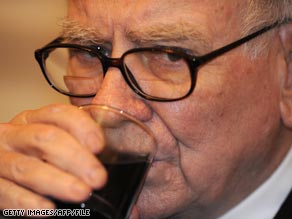 Warren Buffett says buy but is it good advice for everyone?
In an editorial in Friday's New York Times, Buffett says, "...fears regarding the long-term prosperity of the nation's many sound companies makes no sense."
The Oracle of Omaha, as he is known, went to great pains to insist he is not calling the bottom for U.S. stocks. "I haven't the faintest idea whether stocks will be higher or lower a month - or a year - from now."
But he clearly feels the environment of fear has created great opportunities. "A simple rule dictates my buying: Be fearful when people are greedy and be greedy when people are fearful."
Easier said than done!
This week alone, the Dow Jones Industrial Average rose 933 points Monday. On Tuesday, the market ended down 76 points Tuesday, after swinging 700 points intraday. On Wednesday blue chips tumbled 733 points. On Thursday, the Dow fell 400 before turning around and ultimately rallying over 400. Watch Bob Parker of Credit Suisse discuss your respsonses to this week's Business 360 blog question
These moves used to happen once every couple of decades. Now they are every day occurrences. The volatility has unnerved even the most seasoned investors.
Should you follow Buffett's advice and jump in?
Experts say that depends on two things; your age and your current exposure to stocks. If you are young, Lakshman Achuthan of Economic Cycle Research Institute says Buffett's advice is sound.
He thinks it is a good time to start nibbling at companies that have good management and are leaders in their business.
If you are nearing retirement and might need the money in a year or two, Achuthan thinks it may not be a good idea.
Buffett is a long-term investor not - as he himself points out - a market timer.
Stocks may well go down before they ultimately recover. Also, Buffett can afford to take some risk now, because he has been sitting in cash.
He has not been hurt by the staggering decline stock market of the last two months. If you have lost 20-40 percent of the value of your investments, you may not want to risk losing even more.
Why would Buffet show his hand? Some may think he is talking up his position, but that doesn't really fit with his personality.
Analysts I talked with say it is likely he is doing so out of a sense of concern.
He knows investors are "un-moored" as one put it. Individual investors are confused and looking for guidance. The professional money managers are looking at computer models that don't go back far enough to work in these markets.
Buffett has the benefit of experience and a tremendous track record.
Do you agree with Buffett's call? Do U.S. stocks look like a good buy or do you feel investing in Wall Street is a dangerous game?