ROME, Italy - There is a saying in this country that what is good for automaker Fiat is good for Italy, meaning that if the government can save Fiat, it will save hundreds of thousands of jobs. The problem is, who can save the Italian government?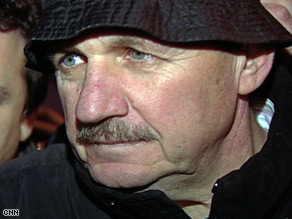 Fiat worker Luigi Mercogliano said the government needed to inject more money to re-launch the industry.
Fiat is the top private employer in Italy, producing more than 10percent of the country's GDP. It has a domestic workforce of roughly 78,000 but hundreds of thousands of people including spare parts suppliers and sales and after-sales service providers owe their jobs to the carmaker.
The head of Italy's business association estimated that the entire auto industry here has a workforce of 1 million.
This is why when there is talk about bailing out Fiat, in reality the government needs to include a vast number of businesses that go beyond the car giant itself.
Unfortunately the cash-strapped Italian government can't afford the billions of dollars other European nations are pumping into their economies to revive the automotive sector.
Fiat's chief executive was recently quoted warning that 60,000 jobs in the automotive sector could be lost if the government did nothing to help. Fiat has already enforced temporary production halts at its Italian plants, sending thousands of workers home on reduced pay.
After a series of top-level talks between government officials, trade union representatives and auto bosses, the minister for economic development promised to unveil "within the next 10 days" a series of measures to help the sector.
The new measures pale if compared to the billions of dollars that are being promised to automakers in the U.S. and elsewhere in Europe. All the Italian government can afford at this time, according to people familiar with the plan, is roughly $650 million aimed mainly at promoting the sale of new car models with a low environmental impact.
For example, if you own a car that is at least 10 years old, and you plan to trade it in for a new and less polluting model, the government would give you roughly $2,000 to purchase it (a similar plan is already in place, but covers up to $1,000).
Government officials say companies researching new eco-friendly technology would also receive financial assistance.
There are also talks about increasing road taxes for the largest and more polluting models, such as sports cars and SUVs.
The plan, which is still under discussion, sparked protests among Fiat autoworkers, especially those who have been sent home with reduced pay.
"We don't spit on the government's good intentions," said Luigi Mercogliano, who has worked just one week since September at the Fiat plant near Naples. He and a few hundred were demonstrating outside the prime minister's office on Wednesday night while the talks were under way. "But the money they are talking about is not sufficient to re-launch the automotive sector in Italy," he added. "In other countries, in Germany, in France and in the U.S., their governments are already putting in a lot more money for the technological renewal and the development."
The Italian government knows what needs to be done. But it doesn't have the money to implement a large-scale investment plan. So, while it can't simply sit on the sidelines and watch other European partners pumping money into their car industry, it is trying to avoid having to deal later with the problem of massive layoffs.
Fiat's top managers say the situation is difficult, and called for quick and decisive measures. But the government appears reluctant to intervene massively to assist the car industry knowing that other sectors are asking for similar treatment.
Indeed representatives of construction and infrastructure businesses are not sitting on the sidelines watching the government bail out the car industry. They warn that some 250,000 jobs are at risk over the next six months, and are asking for billions of dollars in aid.
Italy's GDP is in freefall (like that of many other EU countries), but the problem here is that its current debt is greater than the total value of its economy (roughly 104 percent of its GDP). The outlook is bleak.
So, while construction workers, automakers, fishermen, farmers, parmesan producers and their extended families are asking for bail out money, my question is: who will bail out the Italian government?