TOKYO, Japan - "Through repetition and practice, you can create a natural smile," says Keikyu Railways representative Taichi Takahashi. Strange as it may sound, he has reasons to think so. In June, the company installed software for employees that grade their smiles from 0 to 100.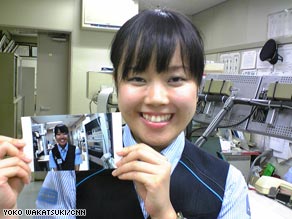 Keikyu Railways believes the smiles of their workers affect overall service.
"In the beginning, everyone was confused," says station attendant Kiyomi Ogiwara, "But now it has become a habit. In the morning, everyone lines up and practices smiling."
A camera mounted on top of the computer captures the face of each employee as they sit down. Once the test, has begun, they have to hold their smile for 10 seconds before a buzzer goes off indicating the test has finished. They are then given their score, a percentage from 0 to 100, with 100 percent being their ideal smile.
Along the way, the program offers advice on improving one's smile, for example "Relax" or "breathe deeply." Though the company hasn't laid down firm rules for its use, one idea under consideration would have workers print out a photo of their 100 percent smile and carry it with them so they can consult it throughout the day.
Ogiwara, 21, is clearly the station champion, her scores hovering between 90 percent and 100 percent. Others at the station struggle to master their grins, with scores around 60 percent. But the test is not mandatory, and the company says workers' smiles will not be used to determine promotions or demotions.
To those who say they would rather have good service than a smile, Takahashi replies, "Of course good service is the most important. But you can't give good service with a scary face. The smile affects overall service." That's particularly important at the Haneda airport station.
"Haneda airport will start handling more international flights next year," he says "There will be many foreign tourists using Japan's trains for the first time and we wish them to have a safe trip."
Ogiwara says her smile has improved dramatically since the first time she used the machine. "I got used to it, and I try to smile naturally. Now I know how to get a high score," she says. That natural smile is clearly in evidence as she moves from customer to customer, helping them find the right train, or pay the right fare for their tickets.
"By having a smile on my face," she says, "I make other people feel good, and they smile back at me."